International Recruiter Merges with Local Agency
Acorn Human Resources, a local recruitment agency for many years, specialising in recruitment for the mining and resources sector in Kalgoorlie and Perth, has rebranded since becoming part of the Synaco Global Recruitment group, through Merger.
The group that Acorn have merged with are a nationwide recruitment agency, with offices in Perth, Darwin, Rockhampton, Brisbane, Sydney, Liverpool, Parramatta, and Adelaide. Synaco, the Australian subsidiary of the international group Synergie, is part of a 53-year-old recruitment company trading in 17 other countries globally. The merge is another win for the Kalgoorlie and Goldfields region securing significant investment with the creation of future jobs for the local community to benefit from.
Current Acorn Branch Manager, Carina Robertson who has had many years of management experience (prior to and since the merge occurred) said in relation to the merger: "I am incredibly excited about our merge and what this means for our clients, candidates and future job seekers. We now have access to a larger pool of candidates Australia wide, along with 7 other branches across the country, meaning we can now source work anywhere our job seekers may be looking, not just in this region. For our staff, Synaco shares the same culture as Acorn which we have had pride in creating and continues in strength, flowing through to our workforce."
Acorn Human Resources, founded by Roger Edwards in 2009, has a strong track record of providing innovative and cost-effective recruitment solutions to its loyal clientele for the past decade. Previously Mr. Edwards held management positions in other recruitment agencies well before 2009. At that time, due to the fallout of the GFC, he was able to purchase the client list of the company he was managing. Mr. Edwards has been a well-respected member of the Goldfields community since 1985 and was a member of the Executive of the Chamber of Commerce for several years, besides sitting on various boards, along with raising a family of 4 all of whom were reared in Kalgoorlie.
Acorn services a wide range of industries such as mining and resources, trades and engineering, manufacturing, transport, logistics and civil construction. Acorn has a legacy of helping many Kalgoorlie locals and Indigenous communities find their next employment opportunity and the merge with Synaco Global Recruitment really complements both companies' objectives in the region. "After about 12 years of running Acorn, I began to think of my retirement and through Google I found that a recruitment company in the UK, shared the same name, so I wrote to them asking if they were interested in merging or acquiring my business-the rest is history."
Mr. Edwards found that Synaco (formally known as Acorn Global Recruitment) shared his same ideals and believed in business honesty. He approached Synaco Global Recruitment Managing Director, Mike Otty, and realised that it was a progressive organisation that put all its efforts into its service ideals, to ensure both clients and candidates receive the best experience available. "I strongly feel that the merger of our two companies will provide the Eastern Goldfields with a continuance of the service they have come to expect from Acorn Human Resources" says Mr. Edwards.
Mike Otty, Managing Director of Synaco Global Recruitment, started the company with the backing of Synergie in 2012. Growing the agency with great success, Synaco began in Adelaide before expanding to the Northern Territory in 2013. In 2015 they reached Western Australia, and by 2019 they acquired Entire Recruitment in New South Wales and Queensland.
"The successful merge of Acorn Human Resources to Synaco is testament to the loyalty and solidarity of its employees and how much their clients value the service they continue to receive. The opportunity for Synaco to further enhance its presence within WA and the Goldfields community was one that was highly attractive and has since proven to be an excellent decision. Whilst the Acorn badge has changed, our shared commitment to providing sustainable and rewarding careers to the community in this region, remains steadfast. We thoroughly look forward to where the next chapter of our shared story takes us" says Mr. Otty.
The Synaco Global Recruitment team nationwide is excited for where it will take the company along this new direction.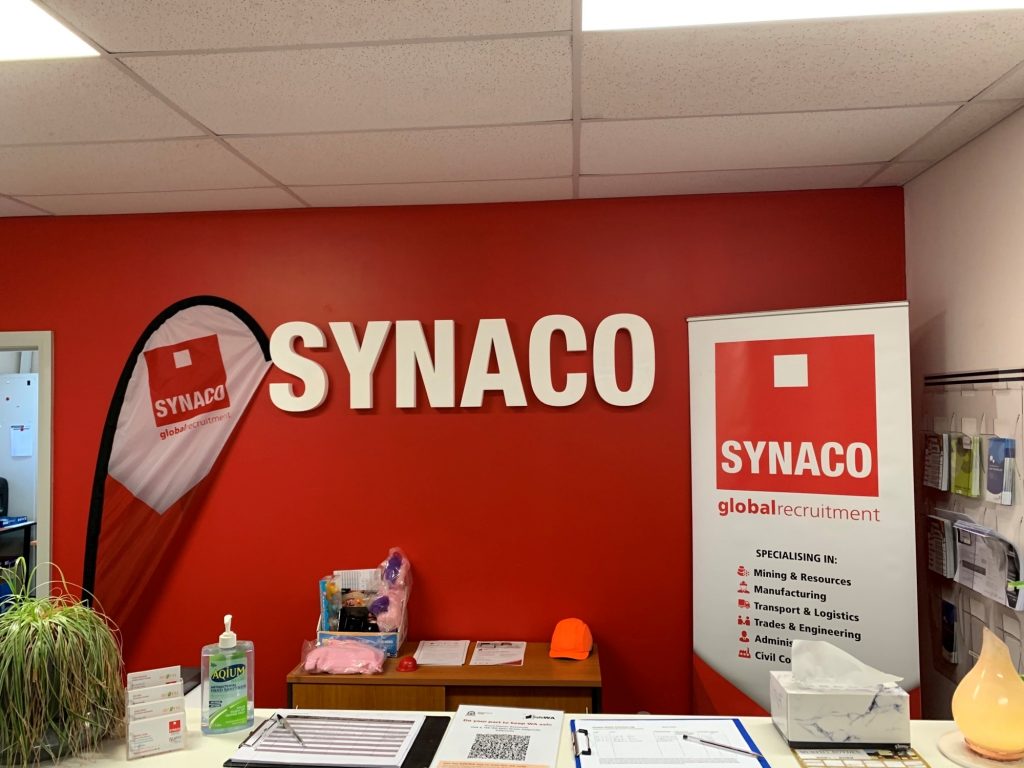 To contact the team at Synaco Global Recruitment Kalgoorlie, call on 08 9021 6222, visit their branch at Suite 4/158-160 Egan Street or head to the Synaco website www.synacoglobal.com.au